Jason and I first crossed paths at the intersection of Washington and Capitol Way. Amidst his diligent efforts to sweep up the usual debris that clutters city streets, I couldn't help but notice him. When he caught sight of me, he paused, leaned on his broom, and asked me to take his picture.
As we spoke, Jason opened up about his personal struggles with homelessness. He shared that he received occasional support from a few local store owners who would generously offer him a few dollars for his voluntary sidewalk cleaning in the nearby alleys and in front of businesses.
If you ever have the chance to meet Jason, you might find him tidying up alleyways, sidewalks, and business fronts. He has become well-known in Olympia for his unwavering commitment to spreading positivity and maintaining cleanliness throughout the city.
Introducing Eddie: A Chance Encounter and His Life Story
Our paths first crossed on a scorching summer afternoon downtown, with the temperature hitting 90 degrees. He caught my attention with a simple question, "Do you have a dollar so I can get a coffee?" Little did I know that this seemingly small interaction would turn into something much bigger as Eddie shared his life story with me.
As it turns out, Eddie is a Navy veteran who was born in Oklahoma City in 1944. After enlisting, he was stationed in San Diego, where he worked with General Motors at the Chevrolet plant after completing his service from 1961-1965. Later on, he made his way to Oregon in his beloved yellow 1950 Ford V8, where he pursued a career as a skilled carpenter and welder.
Eddie's journey is a testament to the rich and varied experiences that shape a person's life. From his humble beginnings in Oklahoma to his time in the Navy and subsequent career, Eddie's story is one of resilience, determination, and a love for vintage cars. Our chance encounter that hot summer day downtown opened my eyes to the depth and complexity of Eddie's life, and I am grateful for the opportunity to have crossed paths with this remarkable individual.
Eddie has made downtown Olympia his home for the past 6 years, often staying with various people who come and go. Before we parted ways, he expressed his gratitude for many things, including the simple joy of being alive each day.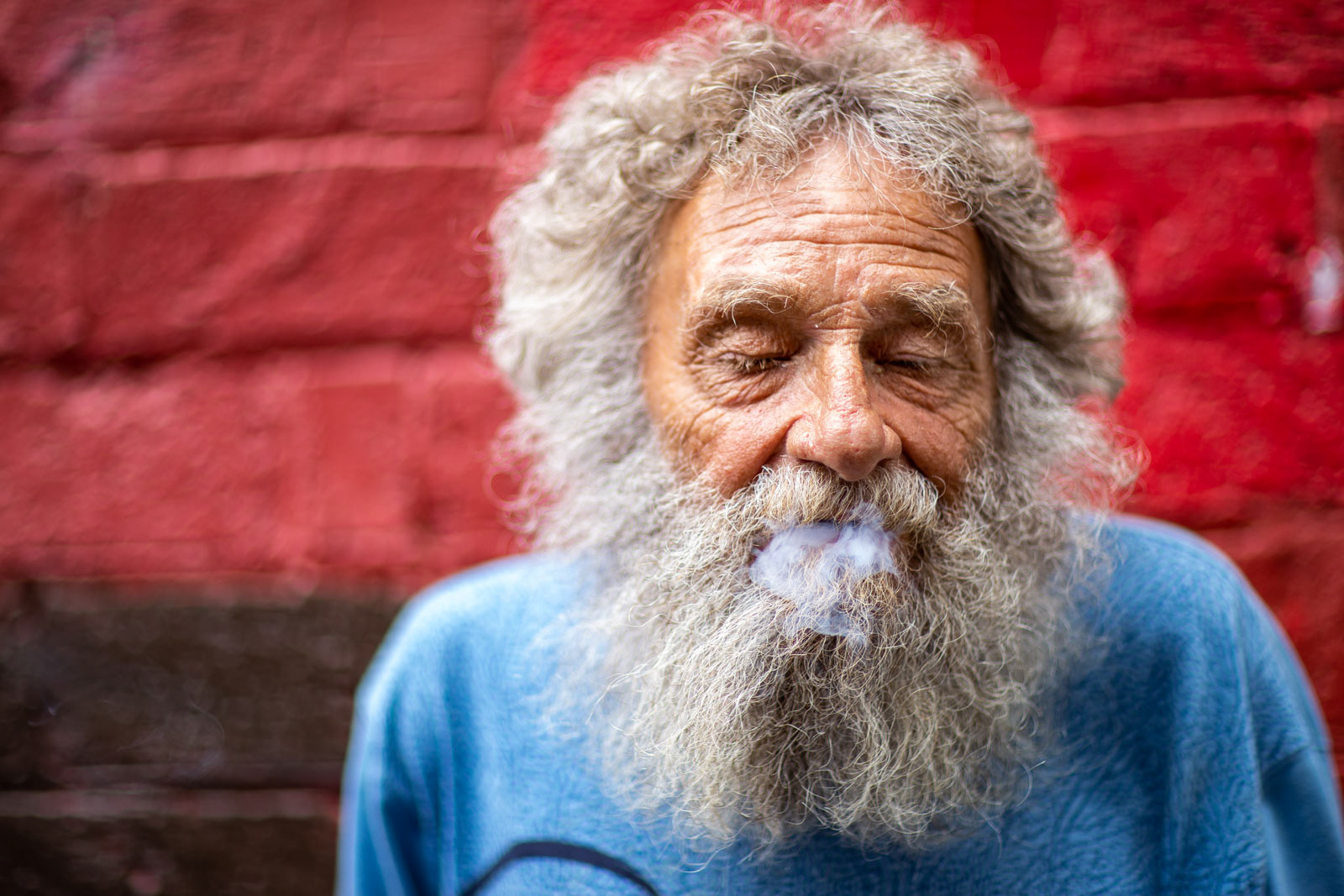 Meet Lee, also known as 'Pony boy.' I encountered him randomly as I passed through an alley in downtown. He was thrilled when he saw my camera and immediately asked to have his photo taken. He struck poses, flexed, and laughed at himself, clearly enjoying the moment. Here is a candid shot of Lee, not posing, capturing his genuine personality.
Sitting alone on a bench alongside a busy city street was Moses, with his luggage cart filled with black plastic bags and a tarp, secured with duct tape and bungee cords. He told me that he kept it away from him because some women found it scary, but he assured me that I wouldn't be scared. 
As he began sharing his life story, Moses revealed that he was born as Jim in Amaretto, Texas in 1944 and came to Olympia, Washington in 1990. He had been abandoned by his mom and two brothers at a young age, and he changed his name to Moses when he saw parallels between his life and that of the biblical prophet. He drew comparisons between the eruption of Mt. St. Helens and verses in the book of Revelations, and shared other modern-day insights from the Bible. Before we said our goodbyes, I asked Moses if I could take his photo. He replied with a smile, "Of course, but be prepared to get rich if you're gonna take my picture."
On a frigid morning, the sun offered some slight relief as Eric stood draped in blankets among a small group of people at Sylvester Park. At 52 years old, he grew up in Las Vegas and had a background in singing with bands. It was clear from his attire that he was also a Dallas Cowboys fan. At the time these pictures were taken, Eric had been experiencing homelessness in Olympia for 10 months. He expressed his desire to get off the streets and see his friends do the same, showing a glimmer of hope for a better future.
Sitting on the sidewalk with a rolled-up newspaper in his hands, Melvie asked if I played guitar as I walked by. When I replied affirmatively, a slow, wide smile spread across his face. He tried to guess other things about me but hilariously missed the mark each time.
Melvie Sheer is his name, but his birthday is unknown. He explained that he's had too many names because they change depending on the town he's living in. He sleeps in stairwells and stoops in Olympia.
In 1971, in Littlerock, Washington, Melvie was driving his Maserati when a truck crashed into him, resulting in severe head trauma. He doesn't remember who, but he believes that "someone put me here after my injury." Currently, he has an untreated hernia, underscoring the challenges he faces without proper medical care.