I passed by Jason in an alleyway on Washington and Capitol. He was busy sweeping up the typical type of debris that litters city streets. He paused when he saw me, leaned on his broom, and asked me to take his picture. He discussed the struggles of his homelessness, mentioning that a few local store owners give him a few dollars here and there for his voluntary cleaning.
If you ever meet Jason, he may be the one cleaning up around town, along sidewalks, and in front of businesses. 
Jason is well-known for spreading positivity and cleanliness to the city of Olympia.
This is Eddie. We crossed paths downtown on a 90 degree
 summer afternoon. He initiated me with a question, "Do you have a dollar so I can get a coffee?" The coffee turned a little moment into a larger one about his life.
Eddie is a Navy veteran born in Oklahoma City in 1944. Eddie's enlistment brought him west to San Diego. After serving from 1961-1965, Eddie got a job with General Motors at the Chevrolet plant. He later moved to Oregon in his yellow 1950 Ford V8 where he became a carpenter and a welder.
For the last 6 years, downtown Olympia has been Eddie's home, "staying here and there with people who come and go."
Before we parted he said, "I'm grateful for a lot of things...just to be alive every day."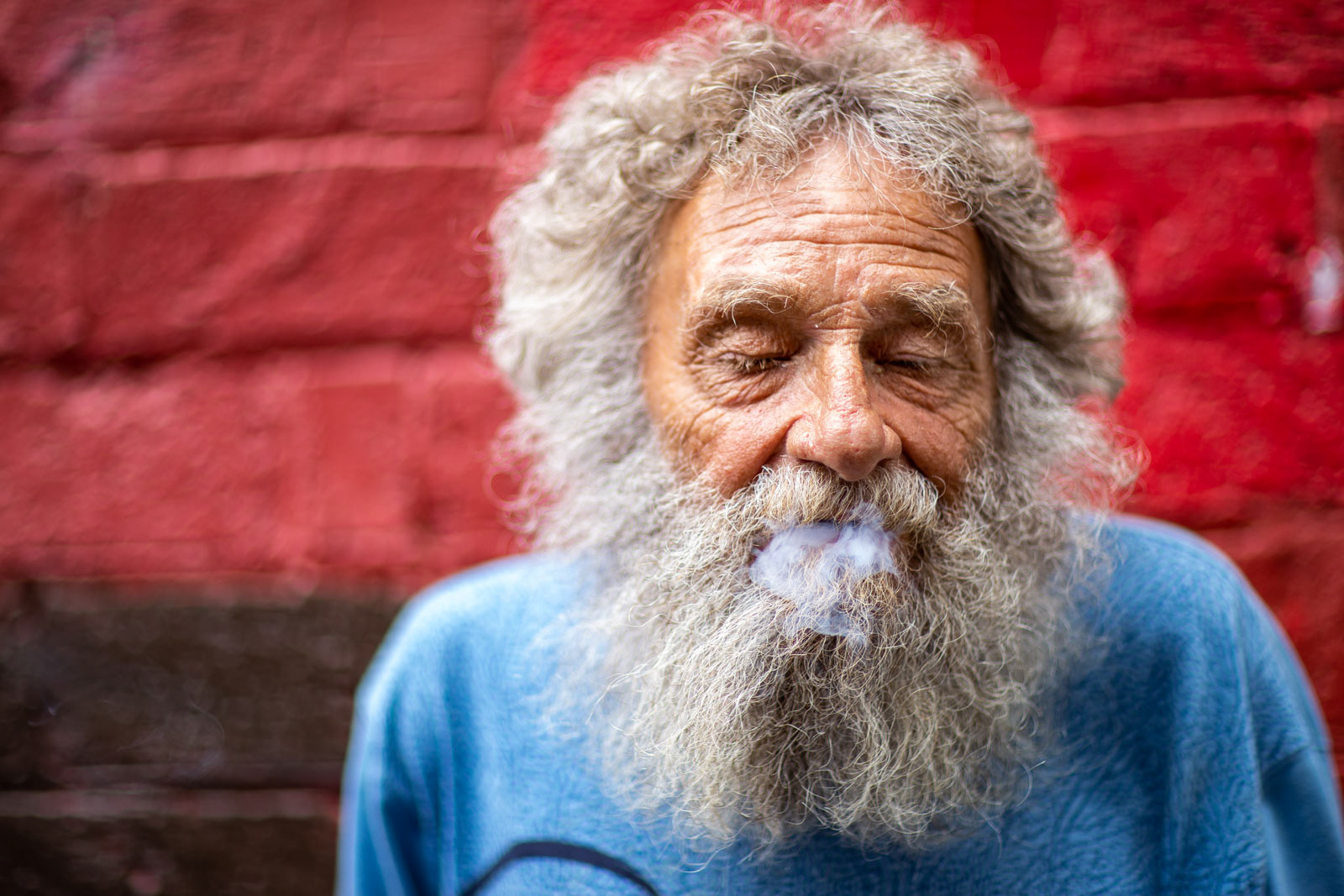 This is Lee, aka "Pony boy." He stopped me at random as I passed through an alley downtown. He lit up when he saw my camera and immediately asked to have his photo taken. He started posing and flexing, laughing at himself and having a really good time. Here is one picture of Lee not posing.
​​​​​​​
Moses was sitting alone on a bench alongside a busy city street. A few feet away from him was his luggage cart. It was filled with things draped in black plastic bags and a tarp, sealed with duct tape and bungee chords. He told me, "I keep it away from me because some women find it scary. They see me, and they see all my belongings, and they get scared. But you, you won't get scared." He proceeded to to tell me about his life.
Moses was born in Amaretto, Texas in 1944 and came to Olympia, Washington in 1990. Moses was abandoned by his mom and two brothers at an early age. His birth name is Jim, but he changed it to Moses when he began seeing similarities between his life and that of the biblical prophet. He compared the eruption of Mt. St. Helens to verses in the book of Revelations and drew other modern-day parallels from the Bible. Before we parted ways I asked if I could take his photo. He replied, "Of course, but know that if you're gonna take my picture you're gonna get rich."
The morning was biting cold but offered the relief of full sun. Eric was draped in blankets standing within a small group of people at Sylvester Park. He's 52 years old and grew up in Las Vegas singing in bands. If you can't tell he's also a Dallas Cowboys fan. He's been living homeless in Olympia for 10 months now. He said he wants to get off the streets and see his friends do the same.
Melvie was sitting on the sidewalk with a rolled-up newspaper in his hands. He asked if I played guitar as I passed by him. When I said yes, a slow, wide smile formed on his face. He tried guessing other things about me but was comically incorrect every time.
Melvie Sheer is his name. His birthday is unknown. He's had too many names, he said, because they change according to what town he's living in. He sleeps in stairwells and stoops in Olympia.
1971, in Littlerock, Washington, he was driving his Maserati when a truck slammed into him, causing severe head trauma. He didn't know who, but he said "someone put me here after my injury." He currently has an untreated hernia.
Scarlett is a mystical artist with a fire in her eyes this photograph doesn't allow you to see. She compared having one's eyes captured in a photograph to imprisonment.
We met last night as she swung open the wooden screen door of the coffeeshop, rubbing her stomach and squinting her brow. She walked straight up to Derek and I, disgruntled and purposefully, coffee and unlit cigarette in hand. She asked if our gastric systems had been bothering us lately. Her words were quick and sharp like a comedian. "Some shit's gonna go down," she said, "...it's a sign of things to come."
She is 50 years old, a widow, and straight from New York. Her husband, a Vietnam veteran, had died recently. Her openness was accompanied by vagueness and poetic rhythm. She only permitted this photograph because she had sunglasses.